New Stock - Open box / packaging BSA EMD 3-9x40 Essential TELESCOPIC Air Gun Rifle SCOPE Sight + 11mm 3/8" Mounts - New Stock - Open box / packaging BSA EMD 3-9x40 Essential TELESCOPIC Air Gun Rifle SCOPE Sight + 11mm 3/8" Mounts
Main Content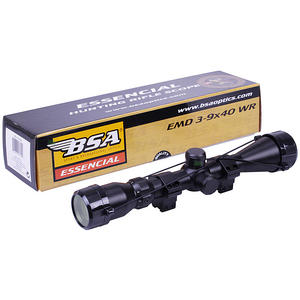 New Stock - Open box / packaging BSA EMD 3-9x40 Essential TELESCOPIC Air Gun Rifle SCOPE Sight + 11mm 3/8" Mounts
Create a wish list:

/
**New Stock - Open box / packaging** Great value and quality from BSA - supplied with 11mm dovetail two piece allen key mounts to suit most modern air rifles.
Tube Size: 1"
Weight: 515grams
Length: 310mm
Mounts: Supplied with mounts to fit 11mm dovetails (most MODERN airguns and .22 rimfires).
Reticle: Mil Dot Reticle.
PX Adjustment: PX Preset to 100 metres.
Minimum Focus (On Full Magnification): approx. 15 metres.
Lens Covers Supplied: Elasticated Caps.
Turrets: Finger adjustable turrets under caps.